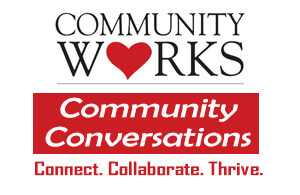 We know there are many challenges our nonprofit organizations are facing and that we are all feeling a bit isolated. We presenting a series of Community Conversations to bring together the nonprofit community.
These one-hour online conversations provide an opportunity for individuals to share their challenges, solutions and learn from each other, so we can all survive and thrive. Respectful Communications Ground Rules
The sessions are offered free of charge and are intended to be a confidential and trusted space to support sharing that matters. These sessions will not be recorded.
Our first in the series is:
What is Working? What Challenges are you Facing? Share Solutions!
This Community Conversation is an opportunity to talk with your peers and colleagues about the current climate – what's really working in your organization, what isn't, and what best practices can we learn from others to help our organizations survive and thrive.
We are offering three different times, so you can select a session that fits your schedule. We are using the Zoom platform and will break into smaller groups to provide more space for sharing.
To join the conversation, choose one of the times below to register: (there is no fee to register!)
Monday, October 5 at 5 pm
Register
Wednesday, October 7 at 11 am
Register
Friday , October 9 at 1 pm
Register
Any questions or feedback? Contact: convos@princetoncommunityworks.org
Upcoming Topics
"Creating Your New 'Normal'" – October 12, 14 and 16 (Times TBD)
"Wellness: You Can't Pour from an Empty Cup" – October 26, 28 and 30 (Times TBD)