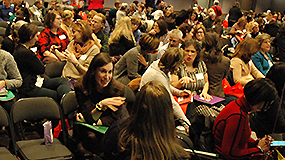 During the 2022 PCW Annual Online Conference, there will be multiple opportunities to engage and connect with others in the non-profit and volunteer community. We are sharing below so that you can sign up and participate, and also have a resource tool to guide you as you work with others!
Tools and Techniques for Engagement and Connection
These tools and techniques can bring equal value to you and your organization as you work with your board, staff, volunteers, the community and even your friends and family. Connecting with each other does not happen by chance. By creating structured ways for people to connect and have meaningful conversations, we will engage each other and offer incredible opportunities to see each other as unique individuals.
Each one of these techniques will:
Enable each person to have a voice and be included.

Allow introverts an opportunity to think in silence.

Help people listen because they have written down their thoughts.

Generate multiple ideas and viewpoints.

Foster a nonjudgmental environment.

Prevent any one person from dominating.

Help level the playing field and the power dynamics.
If you have questions on using these techniques, please contact:
Marge Smith, 609-213-5673 or mlsprin75@gmail.com
MONDAY 1/24: 7:30 pm to 8:00 pm
CONNECTING RESOURCES
Each organization and each person is a resource. We all have something to offer! In order to face our incredible community challenges, we need to be open to sharing both what we have to offer and what we need to maximize our resources. Clarifying our resources and needs will help strengthen both parties.
TUESDAY 1/25: 8:30 am to 9:00 am
THE 'INS AND OUTS' OF MOTIVATION
The key to successfully managing our human resources is discovering what motivates and drains our volunteers, board and staff. When done in a group format, it enables everyone to understand how different tasks can invigorate or drain individuals and reinforces the importance of matching the person to the job. It also fosters delegation because it frees people to give away what they don't like to do and keep what gives them joy.
TUESDAY 1/25: 12:30 pm to 1:00 pm
VALUES TIC-TAC-TOE
Nonprofits are centered around values and what creates meaning for our staff, volunteers, board, and donors. In order to engage and connect people around values, the tic-tac-toe is a fun way to enable people to articulate what's important to them and affirm commonalities and perhaps even recognize different words may mean the same thing. By surfacing the values, we feel closer together and perceive the good that exists, thus fostering a sense of community and connectedness.

TUESDAY 1/25: 5:30 pm to 6:00 pm
DRIVEN TO COLLABORATE
Using the image of a car and enabling people to communicate the role they play reinforces the need for collaboration. Alone we cannot do everything and make our organization move forward. As individuals articulate the role they see themselves playing, it enhances our appreciation of who they are, what they do, and how they contribute to the group.

WEDNESDAY 1/26: 8:30 am to 9:00 am
FROM GROUNDING TO GROWING
These three words, root, branch and fruit, help frame a meaningful discussion. It enables individuals and organizations to reflect on their roots or what grounds them. They can increase their awareness and share how they have branched out. Finally, it helps them imagine what their final product will be. What is the fruit of their labor?

WEDNESDAY 1/26: 12:30 pm to 1:00 pm
TIPS AND ADVICE FOR WORKING TOGETHER
In many parts of our lives we read directions in order to be successful. But somehow, we never take the time to give directions about what we need in order to succeed. This exercise clarifies what I need and what others need enhances our ability to work together more effectively.

WEDNESDAY 1/26: 5:30 pm to 6:00 pm
SHARE IT FORWARD
Sometimes people think of 'paying it forward' and we forget the impact of what can happen when we share it forward. We hope this concept will be contagious because sharing our insights can help others make our visions a reality and make community work.

Ready to join the Princeton Community Works Conference? See the conference page and register!