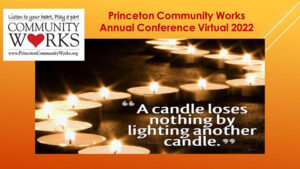 Welcome! This year's conference is about connection and collaboration! We feel uplifted by joining together in a virtual way. "Share It Forward: Connect, Create, Collaborate" is the theme of the annual Princeton Community Works (PCW) conference for nonprofits – boards and staff – and volunteers.
The engaging and inspirational conference is set for January 24, 25 and 26, 2022.
On Monday evening, our opening keynote will feature the non-profit Trenton Circus Squad, who inspires young people to take big leaps in life!
Conference registration is OPEN throughout the conference!
Already registered? Go to WHOVA and Login.

PCW focuses on meeting the needs of volunteers, boards and staff of nonprofit organizations, will take place online. The registration fee is $20 per person for all three days. Reduced rates for groups and scholarships are available.