At PCW, WE LEARN>ENGAGE>CONNECT>EMPOWER
Monday, January 29, 2024
5-9 PM
An online learning conference
THEME: "Making Hope A Reality!"
One night only!
THE CONFERENCE
Princeton Community Works 2024 is a virtual educational conference for nonprofit boards, staff, and volunteers. You will increase your skills in nonprofit management, add helpful tools and techniques that will support your mission, and connect with other nonprofit organizations.
Virtual Learning Opportunity!
One Night Only!
Keynote & 2 Workshops
$20 per Attendee
Group Rate Available
Scholarships Available
THE WORKSHOPS
Preview the workshop sessions planned for 2024 here and get ready! – Princeton Community Works Conference Brochure (PDF)
THE HOPE VIDEO
PCW would like to share an opportunity for your organization to be featured in the opening presentation at PCW. How does your organization convey HOPE? See below for details. Click to enlarge.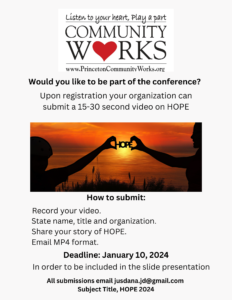 Questions?
Stay connected: