Online Registration is open for Princeton Community Works 2019!
ONLINE REGISTRATION ENDS WED. JAN. 23!
Workshops fill up quickly – please register early to avoid being closed out of your favorite workshops.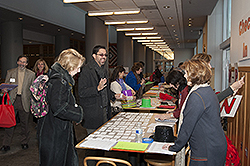 1. Decide which workshops you would like to attend.
2. Go to our registration tool and complete your online registration.
3. Share this with your friends and colleagues, and be ready for a great event!
Date: Monday, Jan 28, 2019
Time: 5:00 pm – 9:15 pm
Location: Frist Campus Center, Princeton University, Princeton, NJ (See this page for location information, parking & map)
Cost: $40 per person.
Your registration fee includes General Session, 2 Professional Development Workshops, a Boxed Dinner (vegetarian option available), Coffee and Snacks, and Networking with more than 400 other Nonprofit Professionals.
Please note: Scholarships are available. Contact Marge at 609-213-5673.

REGISTRATION TIPS FOR SUCCESS:
Before starting the registration process, review the available workshop information on the Workshops & Speakers Page.
Make a note of which workshops you are selecting, since they will NOT be referenced in any confirmation emails. Past attendees have found it helpful to remind themselves of the workshops/alternate for which they registered.
All registrations AND payment must be received by January 23. After that date, when online registration ends, while walk-ins are available (payment by cash or check only), many classes are closed because they fill during the online registration period.
Each attendee must register separately.
To Pay
Check Payments
If you are paying by check, the online registration process IS complete. NOTE payment must be made in full by January 23, to guarantee your workshop choices.
Make your check payable to Rotary Club of Princeton and mail to:
Susan Mullin
Nigido Mullin Investment Strategies
170 Tamarack Circle
Skillman, NJ 08558
Credit/PayPal Payments
If you are paying by your personal or business credit card OR your PayPal account, CLICK THE BUTTON "COMPLETE PAYPAL PAYMENT". You do NOT need to have a PayPal account to pay by credit card, you just need to use the PayPal processing program.
A new window will open-up from PAYPAL. Follow the instructions from the PayPal website to complete your credit card or PayPal payment. An email will be sent confirming the acceptance of your credit card. If you do not get an email from PayPal confirming your payment, it is not complete.