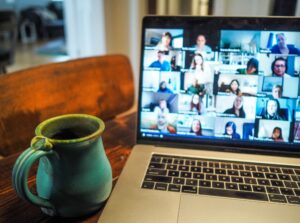 The PCW volunteers put on their thinking caps and start planning for the Princeton Community Works conference in September before the January event. The Planning Committee folks, comprised entirely of volunteers, serve in various capacities in non-profit and volunteer organizations, mostly in New Jersey.
This dynamic and committed group of professionals gathers virtually each week to develop a professional, affordable and educational January conference. They take nothing for granted and generate a number of ideas during the planning process including current or emerging issues. Topic recommendations by previous conference attendees are also used. Out of more than 100+ ideas, the workshops and conference theme are developed.
We are in the 'business' of having a good deal of creative fun as we design a virtual conference with workshops and networking opportunities. Recognizing the needs of our colleagues in the non-profit community is essential as we develop valuable lessons to share forward.
We Appreciate Your Ideas & Help
Do you have ideas regarding educational topics and/or emerging issues for non-profits? Please email them to us at info@princetoncommuinityworks.org. Better yet, let us know you would like to volunteer to help plan the event! We will send you info to participate. We meet virtually on Thursdays around the Noon hour, from 11:30am-12:45pm.
Please Email us at info@princetoncommunityworks.org. We look forward to hearing from you.
Due to Covid-19 pandemic, we are thinking creatively about how to continue to connect (online) and re-imagining how we present training on topics that non-profits need, now and in 2022. Stay tuned or volunteer to help the planning of a new way to build community. We may be physically distant but we don't have to be socially disconnected as a community!
If you'd like to give us feedback or have questions, contact Marge Smith
609-213-5673 or send us an email at info@princetoncommunityworks.org.