The Covid-19 pandemic has wrecked havoc on the world. The nonprofit community is no exception. Needs are greater and resources are reduced. As one nonprofit professional put it: "We cannot pour from an empty cup."
Since everyone is not experiencing "business as usual," Princeton Community Works has developed the virtual tool Community Conversations. This will allow nonprofit professionals and volunteers to share their concerns, ideas and to help each other.
Community Conversations will be focused discussions on different topics such as staffing, operations, giving, collaboration, self-care, and volunteers in the "New Normal."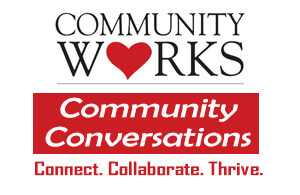 The conversations are informal, like you would have if you met colleagues over coffee. These are not workshops.
The purpose is to share informally in a safe space, what's working and what isn't in the current climate and to collaborate on ideas going forward.
We can learn from each other to help our organizations survive and thrive.
PICK A TOPIC AND TIME THAT WORKS FOR YOU!
Week of Dec. 7:
Recognition & Appreciation
Join us for our last Community Conversation of 2020.
In this season more than ever, it is important to recognize and appreciate those around us who have contributed to our mission, our organizations and to our overall well being.
Two sessions to choose from:
Monday, Dec 7 at 5PM REGISTER
Wednesday, Dec 9 at NOON REGISTER
Tis the Season. Let us come together in Recognition & Appreciation!
Join us for our conversation filled with tips and techniques on how we value those we care about!
Meanwhile, Princeton Community Works is re-imagining its Annual Conference to address the realities of 2020 and beyond. You can join in the brainstorming and planning by participating in our Zoom calls for the planning committee. Learn more here.