PCW Annual Nonprofit Conference – Monday, January 25, 2021- Wednesday, January 27, 2021.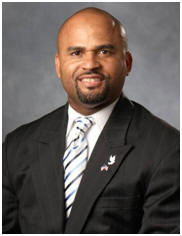 Local pastor and community leader, Rev. Dr. Darrell LaRue Armstrong, will be the keynote speaker of PCW's Virtual Annual Conference this year. He will be offering words of inspiration, healing and hope on the opening night of the conference, Monday, January 25.
Rev. Dr. Armstrong serves as the pastor of Shiloh Baptist Church, a thriving community of faith that is rooted in the African American worship tradition. Shiloh serves nearly 600 families in the Greater Trenton Community and around the world.
Rev. Dr. Armstrong also is an entrepreneur, having founded the Institute for Clergy Training, a research and training agency, which partners with multi-sector agencies on a variety of topics related to leadership, child and social welfare. He is a respected voice and leader in the national and international child welfare and family strengthening communities.
This year, PCW's theme is "Stronger Together: Resilient. Resourceful. Re-imagined." By coming together online, attendees will network virtually and form bonds so they are Stronger Together!
The conference includes the keynote address, 3 days of Professional Development Workshops via Zoom (choice of 8 sessions from over 32 workshops), Networking opportunities with other Non-Profit Professionals, and a complete virtual learning experience. Learn more on the Conference page and register today.