Princeton Community Works 2021 Goes Virtual and
Reduces Price to $10 in Response to Pandemic
January 25, 26 & 27, 2021 – Lunchtime and Evening Sessions
January 4, 2020 – Princeton, NJ – – For the first time, Princeton Community Works – an annual conference focused on meeting the needs of volunteers, boards and staff of nonprofit organizations – will take place online, January 25-27, 2021. The total cost of Princeton Community Works (PCW) has been reduced to $10 per person to enable more people to engage, gain inspiration and learn critical skills to survive these challenging times.
PCW Conference $10 Fee
"Nonprofits are truly lifelines for so many people struggling this year through the pandemic. Nonprofits were challenged significantly the past year. To honor and celebrate the people who have served all of us so well, we decided to have this year's fee be only $10. That's about $1 per workshop," says Marge Smith, who started Princeton Community Works over 20 years ago.
"We see the Princeton Community Works conference as a way of serving a huge variety of people, so that everyone can participate. Everyone deserves the training and the absolute top-quality presentations that this conference is going to offer. It's our way of thanking everyone in the nonprofit world for all their valued and essential work," added Smith.
This year's PCW has a flexible and convenient schedule that provides a variety of options for attendees. On the opening night, participants can attend a networking session, and an inspiring keynote address, followed by professional development workshops. During the next two days, participants can choose to attend additional lunchtime and evening professional workshops. Overall, attendees may choose from one to eight professional workshops from a total of 30 workshops and eight designed opportunities for engaging and connecting with other attendees.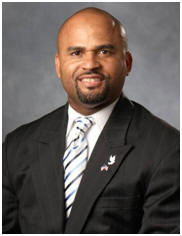 Keynote by Rev. Dr. Darrell L. Armstrong, D.Div. (Honorary), M.Div., Ed.S.-MFT
Rev. Darrell LaRue Armstrong will present the keynote on the opening night, offering words of inspiration, healing and hope. Rev. Armstrong, D.Div. (Honorary), M.Div., Ed.S.-MFT, is the pastor of Shiloh Baptist Church, a thriving community of faith in the African American worship tradition. Shiloh Baptist serves nearly 600 families in the Greater Trenton Community and around the world. Rev. Armstrong also is an entrepreneur, having founded the Institute for Clergy Training, a research and training agency, which partners with multi-sector agencies on a variety of topics related to leadership, child and social welfare. He is a respected voice and leader in the national and international child welfare and family strengthening communities.
Stronger Together: Resilient. Resourceful. Re-imagined.
By coming together online, attendees will network and form bonds, so they are Stronger Together . New strategies and skills learned at workshops will enable participants to achieve this year's theme of Resilient, Resourceful and Re-imagine.
"During the pandemic, people have been isolated, we have all be invisible with what we are doing to help others. So, people really need a place where every single person will get a voice and have a chance to be heard," explains Smith. "We also need to be able to celebrate and listen to the creative ways people have dealt with COVID and continue to make their missions a reality."
2021 Workshop Sessions
The 2021 workshop sessions cover a range of topics that are important to nonprofits. They include: virtual fundraising events, organizing for success and sustainability, legal challenges, building an engaged board, self-care, volunteer management, virtual programs, using data, measurement and metrics, teamwork, communicating effectively, diversity, equity and inclusion, strategic planning, youth-initiated service projects, sponsorship and corporate partnerships, social media (basic and advanced), budgeting basics, grant writing, tax matters, building audiences online, crowd sourcing, digital transformation, impactful surveys, storytelling, donor development, video basics, and effective board governance.
Full workshop descriptions, speaker biographies and registration information can be found in the Conference section of this website.
-30-