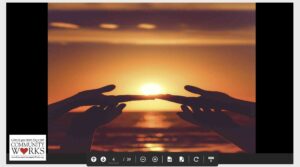 Thank you to all the wonderful participants of Princeton Community Works 2022! Everyone from workshop leaders to volunteers and attendees gave good feedback about what an inspiring time they had.
We had such a great time in the workshops, in the small breakouts where we had the opportunity to Engage and Connect, and in the Whova app where we created virtual community.
Attendees received an email with a link to all the digital handouts, so check your email for that!
Below we are Sharing It Forward by posting the opening/closing presentation with inspirational words and uplifting photos.
Download as PDF and share with others, or use the ideas to make your own inspirational presentation.
And to keep the energy going, we will be back online shortly posting more opportunities to continue to engage and connect with the nonprofit community!