Working from home has its advantages but, with no boundary between your work space and your living space and having co-workers on-line only, it can be isolating. Some people turn to their pets for companionship, to fulfill the human need for touch, and entertainment. Pets are known to reduce stress and provide unconditional love. Caring for a pet is caring for yourself too.
But what if your landlord says pets are a hard no?
Volunteering is A Solution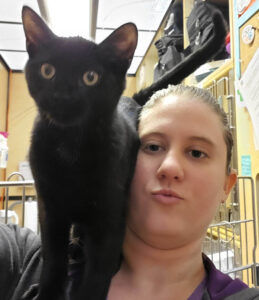 Aubrey W. decided that if she could not have pets, the next best thing was to volunteer with them. Two or three times a week she goes to a to the Pittie Party Rescue adoption site to help socialize kittens. She is the friendly voice and helping hand that shows the shy ones that people are safe, give the energetic ones some needed play time, and the one traumatized from abandonment some comfort.
The fur babies and purr monsters are endlessly amusing. There is fulfillment in seeing the kittens grow, thrive and be adopted to loving homes.
Aubrey volunteers with Pittie Party Rescue which has space in PetSmart of North Brunswick, but there are many shelters and rescues in the region with similar programs. All are in need of volunteers.
For more information about Pittie Party Rescue, go to pittiepartyrescue.com.
This blog post is a way to share the positive activities of nonprofits and volunteers in the area for the last two or so years! If you would like to be featured, please contact: info@princetoncommunityworks.org with a short write up and photo! Help us spread the good news!